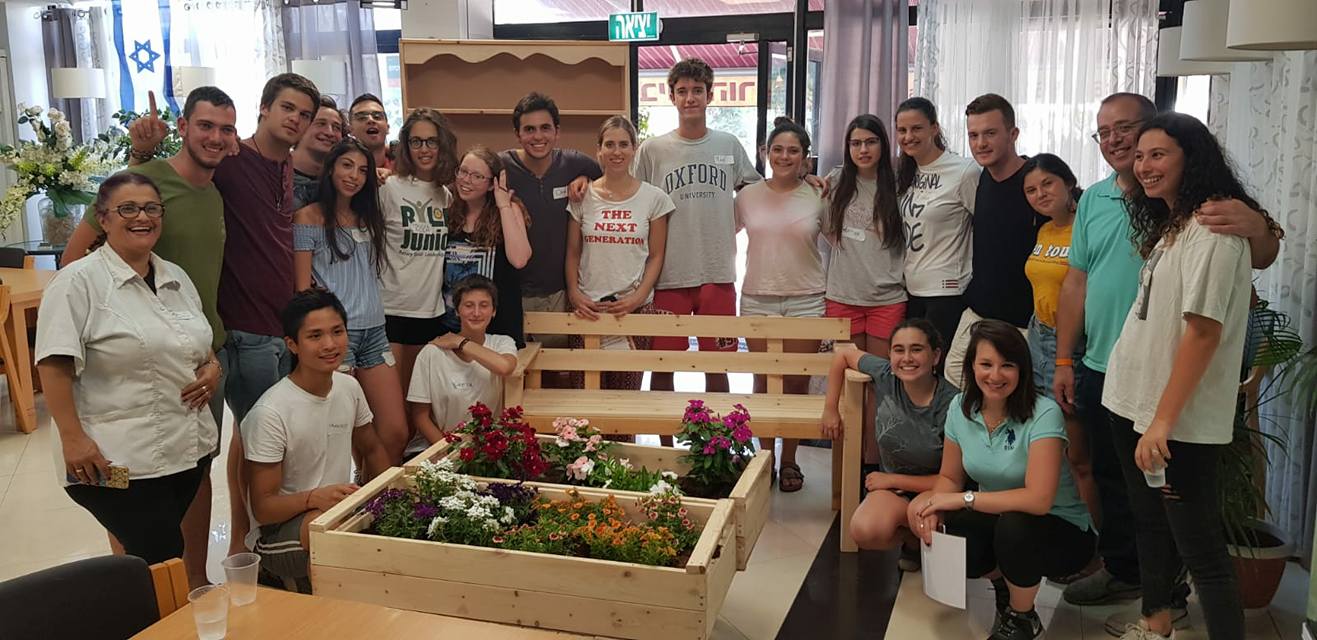 01 Oct

Day 4: it only took a hug
The leader is a builder: he works everyday to create the society in which he wants to live, he builds relationships and opportunities.
It took us only one day, to build benches, friendships and unforgettable memories.
The fourth day was the real beginning of our journey, in fact on this day we finally met the Israeli ambassadors! That morning we were directed to LEAD offices by bus and there the Israeli ambassadors joined us. The very first thing they did was to hug us, one by one, and overwhelmed us with questions. We were breathing true joy, it was like meeting old friends!
We were a little bit disoriented, but we immediately engaged in this fabulous atmosphere of happiness and started sharing a little bit of ourselves, of LEAD and our projects.
We had waited for this moment for months and it was surprising. We were touched by the warming welcome of these young people: in Italy you ask  permission to give or receive a hug, even to people who are close to you. Here, instead, we found free love. Shortly after we understood that it wasn't a special event, but a routine for the Israeli ambassadors. The next morning in fact hugs were not missing, the same for the welcoming words and laughs.
The morning continued with a carpentry workshop at the "Saloon of opportunities" of Michal Zvili. Divided into small groups, with saws, screwdrivers, and other tools we transformed simple wood boards in a table, a bench, bookshelves, and flower pots. This activity let us test ourselves and work as a team with the Israeli youths, as well as create something useful for the others. In fact, all we built was donated to an elderly care house!
In my opinion, this was a great opportunity to try something new that allowed me to discover abilities that I did not know that I had. I could have never expected to build something from scratch, but we did it! Despite the fatigue, we had lots of fun: the satisfaction for what we achieved, repaid all our efforts.
In the afternoon we visited an elderly care house to donate the outcome of our hard work. There we exchanged few words with a lady who described to us the sense of family that she feels in her country: everyone has his/her own life and duties, but, in case of need, everybody is willing to help those in need. Can we say the same of Italy?
During our stay, the old lady was just the first one to testimony the patriotism that characterises Israeli people. I was very fascinated by the national identity and the sense of belonging of these people as it's very different from the situation that I witness in my country, where less and less people are proud of being Italian.
This fourth day was important also because, with the arrival of Pietro, Alberto and Bianca, our delegation was finally complete! The previous days we were missing part of the group and finally that feeling of void was gone. The three friends were welcomed with great enthusiasm and spontaneity by all of us. We felt as if we had always been part of a consolidated group.
To get to know each other we played this game: divided into groups, we had to find the characteristics we have/have not in common. It was the opportunity to speak about different topics without constraints and in freedom and we soon discovered that, despite the differences, to find things in common was easier than expected. It wasn't about finding silly things in common, but particular traits of our personality. What was astonishing is that, the first thing that was found in common, was the shared willingness, in our life, to help people. A sort of "fil rouge" that links LEAD in both countries.
Following this, we had a round of expectations for the week that we were about to spend together. Among this, the willingness to know ourselves better, to find answers to our own doubts and build strong connections to keep forever as well as get LEAD and LEAD Italia to know each other.
The main goals of this experience were also to have fun and build memories for life and surely we made it!
Martina Pavesi